Ever since over a decade has passed since the last(but not final) installation of my favorite game series

Darkstalkers

dubbed

"Darkstalkers: Resurrection"

has been released along with

Darkstalkers 4

placed on hiatus, there hasn't been a new one made ever since yet!



Now, what I wanted

CAPCOM

to do is revive the

Darkstalkers

franchise by developing a prequel that took place before the events of the first game of the series, thus learning the origins of the Darkstalkers(both new and old characters). The game's character roster should have more than 25 fighters. I'm guessing that some characters from other

CAPCOM

games and/or 3rd party franchises will be included in the roster as well. Seems like the characters and stages will be in 3D just like

Street Fighter IV & V

and also, the characters should have an array of alternate costumes.

Now let's just say that we can make

Darkstalkers

great again!


_________________
My beauty can overcome brains and brawn!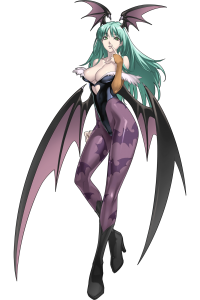 ...Also, my husband sells propane and propane accessories.