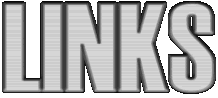 Halo 3 links and official websites of some of the top shooters games out there! Check back for updates.
Bungie Software
Official site. Includes news, project information, and support.
www.bungie.net
Perfect Dark Zero
Official site with features, history, forum, and developer journals.
www.perfectdarkzero.com
Tom Clancy's Ghost Recon
Official site from Ubi Soft Entertainment. Features demo, FAQs, screenshots, strategy and tactics, and tech support.
www.ghostrecon.com
EA Battlefield Franchise
Your entrance to the world of EA Battlefield ... that Battlefield 2142: Northern Strike is now available for download via EA Link.
battlefield.ea.com
Half-Life 2
Official site for the action game Half-Life 2, features screenshots, trailers, concept art, news, and a Windows Media Player skin.
www.half-life2.com
PlayStation.com : : SOCOM U.S. NAVY SEALs
Official site for Socom U.S. Navy Seals series. Playstation lovers enjoy!
www.socom-game.com
Please check back for updates as I will be adding Halo 3 links as they become available!!




My other sites: HaloForever.com -- GoldenEyeForever.com -- BattlefieldForever.com -- GoldenEyeOnline.com -- PerfectDarkForever.com
ShootersForever.com Navigation: Gaming News Headlines -- Wallpapers -- Links -- Message Boards Forum
Halo 3 Links - Halo - 3 - Links - Shooter Game - Tips - Tricks - Maps - ShootersForever.com has it all covered!